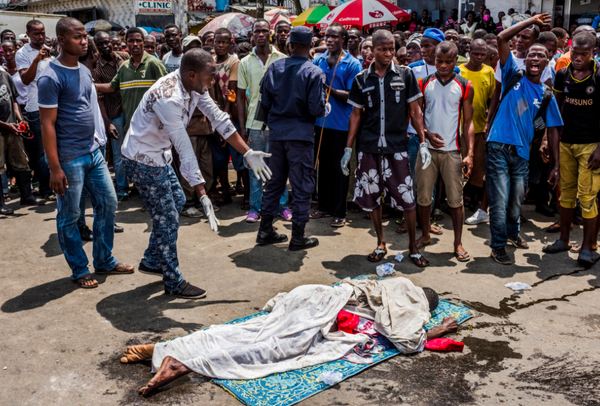 What has been happening in Liberia requires an international criminal investigation. Millions in West Africa are in need of doctors, treatment, water, food, and proper dwelling, but they will get 3,000 U.S. troops of occupation. Why is Cuba sending doctors while the United States sends military troops? They say they are there "to fight the virus", their president speaks about a war on Ebola, but "the enemies" seem to be the local population. 75 percent of those infected with Ebola are women.
How is it possible that a country of 4.4 million people, who already owe huge debts to the IMF, had only 4 ambulances when Ebola broke? The country had one doctor per 100,000 people before the virus epidemic. IMF cannot say it's the exclusive responsibility of the local government since their "structural adjustments" target people's access to health care and medical assistance, depriving them of the possibility of feeding and supporting themselves. Privatizing health care and education are part of their "market adjustments". The civil wars, in which over 14 years a quarter of a million of people were killed in Liberia, have quieted down; but the massive grab of a third of the land for western corporations risked re-igniting them, and was met with fierce resistance by locals.
These are questions which must be addressed, especially since the UN Security Council has declared the Ebola outbreak in West Africa "a threat to international peace and security".  If Liberia having only 1 doctor to 100,000 people contributed to this, if dispossessing poor workers of their resources played any part at all, if IMF's economic terrorism is responsible for this, alarmist statements are simply not enough. Of course, even the IMF is worried that the Ebola outbreak is "a severe human, social and economic crisis; and that it requires resolute response from international community." Answers to the social and economic conditions that contributed to this outbreak are needed.
There's no doubt about the massive extent to which Ebola is killing. The United States own the patent on the virus. Liberia is facing a life-threatening crisis which also is a result of colonization. There are over 2,600 people who have died of this disease, which spread to Guinea and Sierra Leone. More than 5,000 people are infected; half of them in Liberia. The country's officials say the virus is threatening the existence of the entire population. A United States General, just arriving in Liberia, already predicts that 500,000 people might die by next year.  A third of the total population, especially the poorest from the slums in Monrova, are to be kept isolated away from the rest of the population. A curfew has been imposed on them. Riots broke out repeatedly, and police fired at resisting protestors. In August, a clinic was attacked by angry locals who believed the government was selling them a hoax. Later it was claimed that it was not just an outbreak of Ebola, but also Cholera.
"Additionally, the State Department has supported public education efforts in Liberia, Sierra Leone, and Guinea regarding prevention and treatment of the disease.  The effort has included radio and television messages in local languages, the production of nearly 100 billboards and thousands of posters, program support to local non-governmental organizations and a special song commissioned by a popular local musician.
Earlier this month, President Obama released a message to the people of West Africa to reinforce the facts and dispel myths surrounding Ebola. The video was transcribed into French, Portuguese, and other local languages and was distributed to television and radio stations across the region. Tens of thousands of West Africans viewed or listened to the message." Source: FACT SHEET: U.S. Response to the Ebola Epidemic in West Africa 
Could it be more than "rumors", if locals reject teams sent "to educate villagers", to the point of attacking and killing them?
What can explain such affirmations as those made in the Washington Post by Christopher Blattman, a Columbia University professor, who talks about this not being "the end of Liberia", but about being  "a risk that the current regime falls, to be sure." "The defense minister," he mentions, "is a politician and so might mix up the welfare of the country with his political party." Not mentioned are the huge land grabs by Western corporations. But he warns again that there's "an ever-present risk in almost any new democracy that the constitutional order dissolves, through a coup or a civil war." So is it this, or the virus which gives the go ahead to the United States to train the police and the army of Liberia? After the coup and the massacres in Haiti, U.S. and UN also supervised the integration into the local police of ex-soliders who made the coup possible.
 @sabokitty : "It's a sad country that responds to another country's epidemic with soldiers instead of physicians. #ebola #militarism"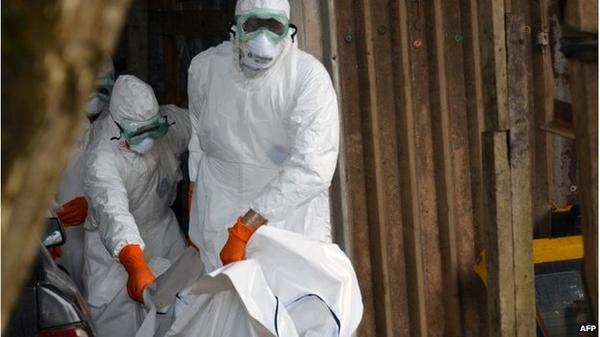 Western psyche functions in such a manner that the public assumes that such terrible developments will be dealt with for what they are, and not used to serve other means, such as colonial occupation or crushing a rebellious population. But this is the West's modus operandi towards the poorest people on the planet, and it seems to follow a certain pattern: disobedient local populations are treated as insurgents, who are either to be crushed or converted to some new regime, or exterminated.
A third of the population is to be isolated. Armed troops are to be followed by a propaganda machine which exists to counter-act "rumors". President Obama spoke of them, but we don't know what they are. There's a blackout on the voices of the people of Liberia. All the information comes from government, IMF or UN-controlled sources. As proven with similar brutality in Ukraine, to give just the most recent example, usually this means disinformation and manipulation.
People were already poor, Ebola just made it worse:
"Princess's child Angie did not die of Ebola. She fell ill two weeks after her first birthday. At the time, the government had quarantined the West Point slum where she lived. Princess's aunt, Beatrice Johnson, who cared for Angie, tried to find help. But the only clinic in West Point had run out of medicine. "We begged security to allow the baby to be taken to a hospital outside of the quarantine, but they refused for three days," says Street Child's director, Michael John Bull. "They attributed her sickness to Ebola." Angie died in a West Point church. Prayer had become Ms Johnson's last option. Princess was trapped on the other side of the barbed wire barricades and found out about her daughter's death more than a week later. "Sometimes I still feel she is in my arms," says Princess. "I thought my baby would be my consolation for all my suffering. She used to bring me joy and hope."" Source
It's bewildering that the IMF brags about releasing their "proposal" to increase "their financial aid" by 127 million dollars to Guinea, Liberia and Sierra Leone to deal with "the economic consequences of the epidemic", when the debt they impoverished Liberia with is already some 90 million dollars. How did the IMF jump so fast to blame the virus for the economic downturn, when a year ago the region was a case of "Investment-Financing-Growth Nexus"? Now, according to the IMF, the virus "has crippled the mining, agriculture and services sectors in Liberia and its neighbors".
The disease has already affected the local's habits and lives. The U.S. soldiers who are supposed to fight Ebola have educational programs planned for the local population. USAID will be there too.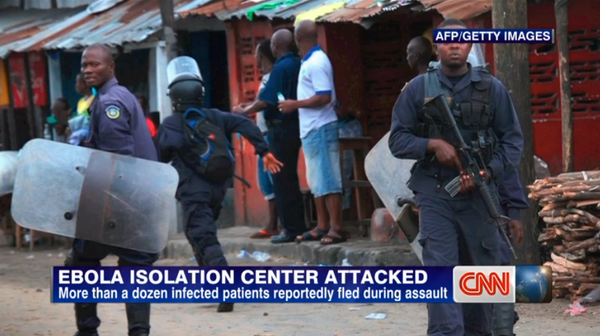 There are too many questions and too little information, but considering the pattern of colonialism – which becomes the frame that the media use to report such events – questions about the reason for troops instead of doctors are legitimate. See also, "Is The U.S. Using The Ebola Epidemic As A Ploy To Further Infiltrate Africa With Its Military?"
We don't know, but certain developments prior to the outbreak are worth knowing. So far, the United States, and other countries from the European Union, including France and Germany, have troops in Africa, the pretext being also "humanitarian" and the aim being to "deal with crisis"; in fact these actions look like a new scramble for Africa.
Debts, land grabbing crusaders, more debts; Chinese peace-makers training as riot police for Liberia  
February 2, 2011: "Global land grab could trigger conflict. 30% of Liberia's country land reportedly given to investors between 2006-2011″: "A study by the Rights and Resources Initiative says developing country governments that fail to protect the rights of those using communally held land could spark civil unrest…. In Liberia… local communities have temporarily blocked a Malaysian company's plans to plant oil palms on 220,200 hectares of land leased from the government. The company has reportedly frozen its operations."
December 11, 2011: Swedish assistance in millions to new land grab: The investment fund Swedfund, owned by the Swedish state and seen as an important means of Swedish development assistance, has invested 10 million euro in the largest private agricultural investment ever in Sierra Leone: 10 000 hectares of sugarcane for biofuel on land in twelve different villages with smallholders…. Another Swedish project is the large forest company, which in northern Mozambique has been developed with capital from, among others the diocese of Västerås through the Global Solidarity Forest Fund… The farmers said: They don't keep promises, they plant pine in the fields of the farmers and they have put villagers in jail during the conflict….  On the desks of Swedish International Development Agency (Sida) there is the background material for an application of credit guarantee for an 8000 hectare large sugar plantation and a refinery in Bagamoyo, Tanzania. … During 2008 and 2009 their plans for sugar cane ethanol produced in Tanzania were presented as green environmentally friendly investments. The project was sharply criticised. The way they got access to land in the villages in the Rufiji delta can best be characterised by the Swedish word baggböleri."
December 2012: In a massive land grab, a third of the country's land was announced that would be sold to corporations, this deal was cut by the government without villagers knowing anything about it. They started to protest against land grabbing crusaders: "We Want Our Land Back. Do Not Turn Us Into Refugees Or Slaves On Our Own Land!"  
Villagers faced arrests and harassment because they talked to a reporter about it. 

January 4, 2013: IMF approves $78.9 Million debts or Liberia.
July 1, 2013: Villagers slam land grab crusaders: "In Liberia "Land Grab" crusaders who are mostly NGOs have contended that agriculture concessions signed by the Liberian Government do not take into account the traditional and customary land rights of the local people, calling for cancellation and renegotiation. This approach by NGOs has created tension in the country and stalled the operations of Oil Palm companies like Sime Darby and Golden Veroleum, the two leaders in the Oil Palm industry in the world." 
July 4, 2013: IMF gives Liberia new loan and demands petroleum bill be changed. 
September 6, 2013: Rape remains the most widespread crime reported to the Liberian police, most rape victims are between 10 and 19 years old.
October 31, 2013:  Angry students from the University of Liberia paralyzed its activity and protested towards the closure of the registration process on the campus, more than 10,000 scholarship students being affected by this decision. Riot police attacked their demonstration and the protest turned violent. The students tried to present a petition to the president but were beaten by police.
November 16, 2014: Liberia's president praises debts to the IMF as having "saved the country".
November 25, 2014: IMF published "The Investment-Financing-Growth Nexus: The Case of Liberia" – "The model has been calibrated as much as possible to Liberian economic data and assumes that public investment has a high economic and social rate of return and is highly complementary toward private sector investment. The objective of the paper is to contribute to the debate on how fast public investment should be scaled up to address the country's developmental needs."
December 4, 2013, Africa's Vanishing Forests: "That palm oil listed in the ingredients of your favorite candy bar or lipstick? More and more of it comes from forest and farmland razed by multinational corporations a world away.
"In 2005 Liberians elected Ellen Johnson Sirleaf president, Africa's first female head of state. The Harvard-educated World Bank alumna …  (signed) concession agreements with outside investors drawn to Liberia's natural wealth, which, in addition to rubber and timber, includes rich mineral and agricultural resources. By 2012, Johnson Sirleaf had signed over a full 30 percent of the nation's land. Such "land grabbing" isn't restricted to Liberia. The World Bank has said that Africa is home to fully half of the world's fertile yet "unused" land, and since the global food crisis of 2008, outsiders have acquired huge swaths of that prime acreage from governments eager for foreign cash. (Many of these deals have been financed by the bank itself.) By 2012, no fewer than 138 million acres of African land—an area larger than the state of California—had changed hands. Some of the new concessionaires are governments lacking arable land of their own, particularly in the Middle East. Others are multinational corporations responding to the growing global demand for biofuels and for diets heavier in grain-fed livestock.
* * *
The oil palm companies in Liberia enjoyed a brief honeymoon. (In addition to GVL, the Malaysian corporation Sime Darby runs a 769,000-acre operation in the north of the country.) But it wasn't long before local communities began to cry foul. Villagers I met during a visit to the Sime Darby concession accused the company of destroying their crops and grave sites, polluting streams, displacing residents by force, and failing to get "free, prior, and informed consent" before clearing their land. The work of planting and watering the oil palm was too hard, they said, the wages too low, and safety equipment inadequate or nonexistent.
The community in Grand Cape Mount County, home to a large part of Sime Darby's plantings, eventually joined forces with SDI's Siakor and the nonprofit Green Advocate Liberia, led by a lawyer named Alfred Brownell, in hopes of having their grievances addressed. In October 2011, a group of residents filed a complaint with the Roundtable on Sustainable Palm Oil (RSPO), the global certification body for the industry. A year later, the communities inside the GVL concession in Sinoe filed a similar complaint. Both concessionaires responded by commissioning studies by the Forest Trust, a Switzerland-based nonprofit focused on ethics and sustainability. The trust's reports bore out most of the communities' claims. Moving forward, it said, GVL and Sime Darby would need to review their land-acquisition processes and their social and environmental policies and improve communication with the locals." Read it all here, and see it's the same pattern as the land grabbing in Mozambique – Ethanol's African Land Grab: "Mozambique has survived colonialism and civil war. But can it survive the ethanol industry?"
December 14, 2013: IMF extends new loan to Liberia of 11 million dollars after re-evaluating a project.
January 25, 2014: Human Rights Watch report deplores "institutional corruption", but keeps total silence on tourist pedophiles, Western-backed economic crimes, human rights abuses, and, of course, land grabs.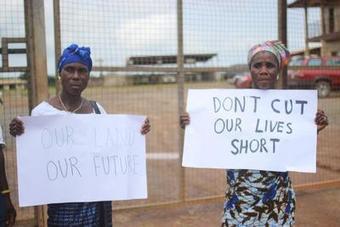 February 2014: "Land issues are critical to security in Liberia." 
February 26, 2014: There will be blood. "Ex-Rebel General Stops Logging Operations" 
March 6, 2014: GRAND BASSA COUNTY CELEBRATE HALTING OF EPO EXPANSION DRIVE: "Monrovia -The long fight between the people of Joghban and other surrounding clans and the Equatorial Palm Oil Company seems to be over as President Ellen Johnson Sirleaf on Wednesday made a remarkable decision which left the elders and people smiling and dancing."
March 19, 2014: Fire destroys 200 hectares of Sime Darby's Liberia plantation – "Sime Darby has one of the largest oil plantations in the West African country with a planned total investment of over $2 billion. It has signed an agreement with Liberia to develop about 220,000 hectares of land for 63 years. So far, it has planted about 10,000 hectares of palm. But the company has met resistance from some locals who have accused it of not properly informing them of the scale and implications of the project. Workers at the Bomi plantation, who requested anonymity, said the blaze was started by suspected arsonists and had blazed for about two weeks before being brought under control. A senior company executive who asked not to be identified said it was not clear how the fire began. "The damage to our plantation is great. We are putting pieces of information together as to what led to the fire," the official said. "This will certainly have some effect on our plantation operation. We are trying to work with the government to see how they can come to conduct an investigation." Palm oil is the world's most widely produced vegetable oil and is used in everything from margarine and soap to biofuel. Annual production around the world is valued at about $20 billion." 
March 27, 2014: IMF Opens Regional TA Center for Ghana, Cabo Verde, Liberia, Nigeria, Sierra Leone, and The Gambia 
April 10, 2014: Multi-hundreds of million dollars highway project would increase the debt of Liberia to the IMF 4 times.
April 25, 2014: Liberia's National police HQ, after they introduced strict new motorbike regulations that most drivers could not meet.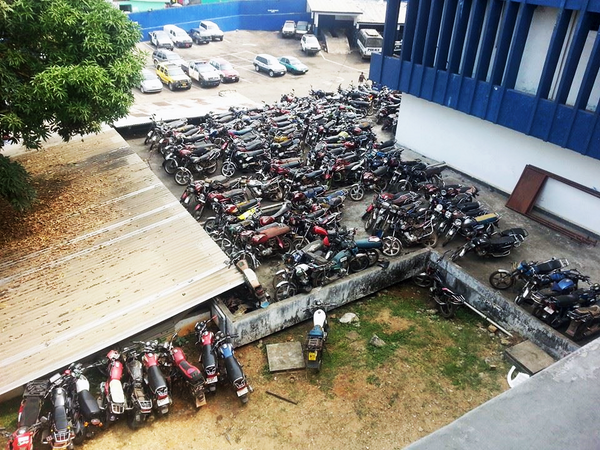 May 4, 2014: Apparently "to keep the peace" in Liberia, Chinese police needed some serious riot training. "#China's peace-keeping police to #Liberia hold drill in Hebei".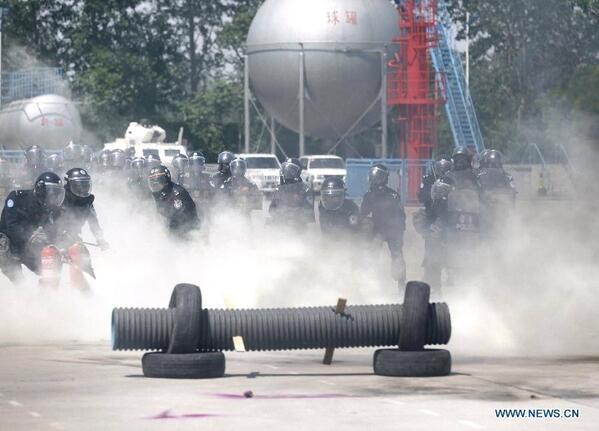 via @AFP: "Chinese police take part in drills in Langfang before leaving for a UN peacekeeping mission in Liberia."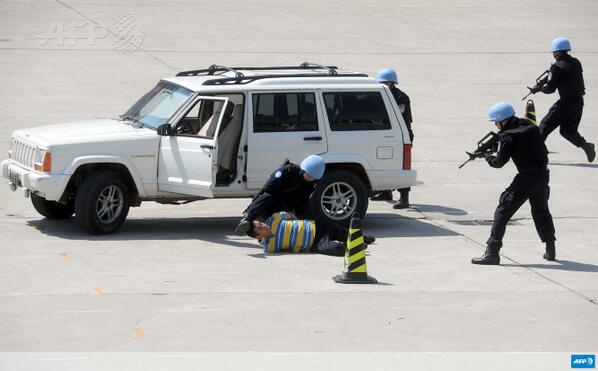 May 6 2014: British company, Equatorial Palm Oil (EPO), trying to grab the land of 7,000 Liberian farmers, which is further threatening their ability to produce their own food. "A community in Grand Bassa county managed to successfully resist the encroachment of a British palm oil company, ensuring their right to the territory and their way of living. In January 2008, EPO acquired Liberian Operations Inc (LIBINC) and claimed around 169,000 hectares of land that the government had granted in concession to LIBINC as their own. Approximately 7,000 people of the Jogbahn clan have been living in the lands claimed by EPO for several generations.
None of the communities was consulted or gave their free, prior and informed consent for the concession granted by the government to LIBINC, as established by Liberian laws and Convention 169 of the International Labor Organization (ILO).
Ignoring these facts, EPO tried to advance over the territories in 2012. In response to the resistance imposed by the communities, EPO´s security officers and members of the elite Liberian Police Support Unit (PSU) assaulted and arrested members of the community by the end of 2013, in a moment when the community strengthened their resistance.
This determination, together with the pressure by national and international organizations, made Liberian President Ellen Johnson to intervene by calling community members to meet with her. After the meeting, Johnson committed to ensure the right of the community to their territory, specifying that EPO could not take their lands…. Despite the victory achieved by the Jogbahn clan, Silas said that EPO has not acknowledged the Presidential statement and has continued to conduct studies of the Clan´s land in preparation for clearing." Listen to interviews, here.
May 12, 2014: Liberia palm oil land grab halted, "will it resist"?
May 14, 2014: Fragile victory in Grand Bassa against land grab by British company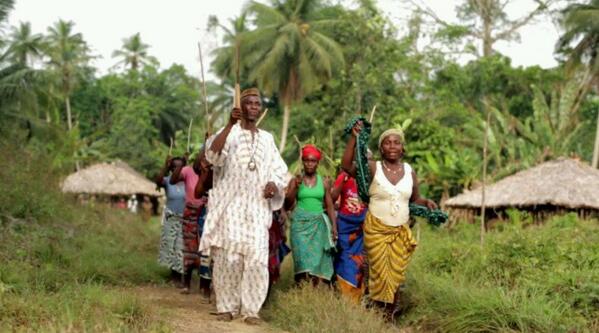 May 30, 2014: UK Company Risks Closure – "The United Kingdom crude oil producer Equatorial Palm Oil (EPO), risk closure as member of Grand Bassa County legislative caucus lobbies to ensure that the operations of the company be halted due to allegations of land grabs… "What is happening in our county is serious," she said. "EPO has begun an illegal clearing of our people's land and this action is being backed by other authorities including the Superintendent, Internal Affairs Ministry as well as President Ellen Johnson Sirleaf."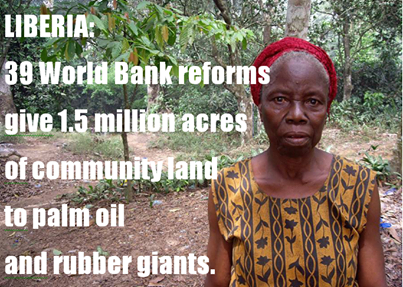 September 11, 2014: IMF says Ebola hits economic growth in W. Africa
September 11, 2014: "IMF in Talks With African Nations to Expand Bailouts for Ebola Crisis"
September 13, 2014: Global Witness Blasts Liberia Oil Block Sale in Midst of Ebola: "On 5 August 2014, the Government of Liberia announced the opening of the Liberia Basin Bid round for four offshore oil blocks… Following a series of scandals, in 2012 the Government pledged not to award new oil concessions until it had first passed new legislation necessary to regulate the oil sector. This legislation – the Petroleum Exploration and Production Act 2013 (draft Petroleum Act) and the draft National Oil Company of Liberia Act 2013 (draft NOCAL Act) – exist now as bills but have not been enacted by the Liberian Legislature. [as IMF insisted]
Global Witness recognizes Liberia's need for revenue, never more pressing than during the current Ebola crisis. That the Liberian Government would seek immediate funds in the form of oil contract signature bonuses in order to provide desperately needed medical supplies, outbreak education materials and health workers is entirely understandable.
However, awarding oil concessions quickly,3 and at a time when the government is in crisis is risky. The government's fight against Ebola will limit its capacity to administer the bid round, negotiate with powerful companies and enforce safeguards such as checking the beneficial owners of companies. The outbreak and the rushed nature of the bidding process have also reduced the ability of Liberian civil society groups to provide oversight.4 This bid round is being led by the National Oil Company of Liberia (NOCAL), a quasi-independent agency that is set to lose considerable powers once Liberia's new oil laws are enacted and, as such, may not be the most independent arbiter. There is a risk that contracts negotiated when the government urgently needs revenue will result in terms that are less advantageous in terms of long-term production."
September 16, 2014: U.S. announced they would deploy 3,000 troops to Liberia "to fight the virus".
Colonial mind-set, worse than Ebola
On the sidelines, some Europeans are using Africa's poverty to push for capitalism's total and direct control and exploitation of local populations, with no chance left for them to control political, economic and social decisions; that is, people are run by corporations, fascist economic policies, sadistic police and army forces, trained by westerners of course, and are a vulnerable and almost fully enslaved work-force.
A Belgian-based NGO nutritionist who is in Liberia insists the virus outbreak is an effect of locals not washing their hands and eating monkeys; she pleads for monkeys be killed but does not express any concern as to why locals are reduced to such hunger and have no other option than to eat them. Could killing monkeys make profits for a nutritionist in Africa? These are just some examples of the capitalist mind frame:
@iSuzyK: "But is corruption, not the way of life for many? How then the rich get richer? How then do we get jobs, if not by the rich #LifeAfterEbola" 
Do suffering populations need nutritionists who lobby for "charity to end" and for Liberia to get more and more loans? If a country does not want any more loans, must it be made to accept them, so that "system won't collapse"? If it's a result of "hands not being washed" – a particularly patronizing, sick and racist Western arrogance towards Africa's people – then maybe "market nexus" should drop dead and access to water should be safe and free? Would that not be logical or at least decent?
@iSuzyK: "STOP CHARITY, so poverty can end! #LifeAfterEbola @melaerts123 @WeCanEndPoverty @UN" (apparently, not taking credits means "charity" and that means poverty). 
@iSuzyK: "@IMFNews Credit must go on. Otherwise whole system will collapse. No charity to  #Liberia #LifeAfterEbola" 
"#WHO says #Ebola won't last in USA & Europe for long" (of course, first world's superior intelligence of stealing the land of Liberians and blaming them for being poor). "Are Ignorance & poor hygiene the cause of Ebola in West Africa." (could it be the West's ruthless and criminal exploitation of Africa?)
"Compassion for animals is causing this episode of #Ebola. (It's not like animal rights activists are crawling all over Liberia stopping locals from feeding themselves on what they have.) But it's worse: "#Holocaust in Africa to make place for monkey & #wildlife leads to#EbolaOutbreak #UNEnvironment."  So the people on those lands have lived with monkeys for centuries but suddenly, but only when since the west grabbed a third of their land the monkeys are a "security threat"? 
Above is just a particular and isolated example of the propaganda unleashed by the west against local populations in the countries of Africa, and its justification is the never ending stealing of their resources, destruction of communities, and exploitation of defenseless people. There's something just as bad as Ebola for Africa: capitalism and the western exploiters and colonizers.