"Don't cut off our future!" "Your good school is not our future!" "We are against your school for class society!" "The school should promote cooperation, not competition". "Education is good only as long as it teaches." "Against fascist and religious indoctrination". These messages carried by high school pupils and students occupied public spaces in cities all over Italy: youngsters are adamantly opposed to the education and job act reform which the Renzi government tries to impose. 80,000 participated in protests all over Italy. in Rome alone 10,000 students marched against the government.
They accuse the government that their intention is to destroy public free education, and to turn schools into factories for the job market; while at the same time denying poor access to education. In some cities protests included demands for free public housing and in support of the right to a house for everybody. Students said they mobilized to save their right to study free of charge, and to enjoy studying without being threatened by artificial insecurity, which the government plans to impose on them. They protested in Rome, Milan, Padova, Bologna and other cities, to smash the job act and school reform.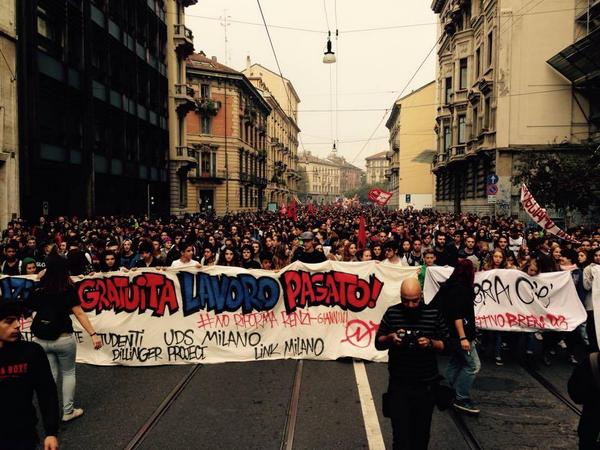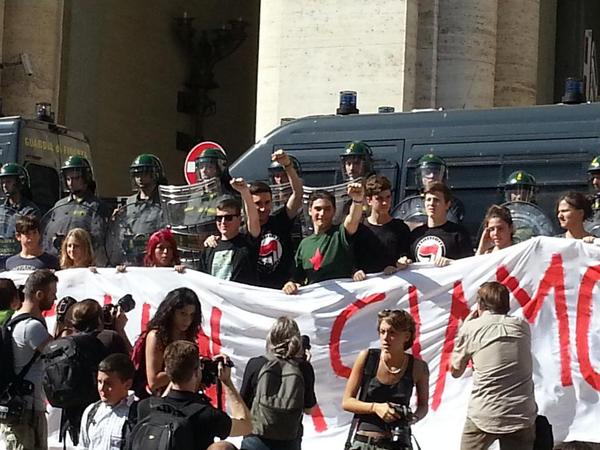 Self-organised students explained why they would not accept governments' job act and education reform. Following are excerpts from an analyse they put together:
"Renzi told us, in a document full of neologisms borrowed from Yankees, that helping the private sector increase its hold on training projects would return to school underr the form of investments in public schools to redevelop the buildings, so that everybody could follow their aspirations and enter easily on the job market." But in reality, students say, this reform is a recipe to accelerate the destruction and privatization of public education. This reform ignores  the voices of students who, over the years, through marches, occupations, self-management, initiatives, meetings have tried to expose and find solutions for the real problems education is confronted with.
"The headmaster will have to look more and more like some manager of a business; the government gives him the power to decide on his own what teachers should be considered "good" on the basis of evaluation criteria that absolutely ignore our demands. these criteria ignore how teachers work with students in class. These criteria are established in such a manner that their aim is exclusively "the productivity of the teachers, the number of hours they teach, the amount of projects that they will fail to promote, in short, the usual mantra of maximum productivity without looking at the quality of teaching and the purpose of the same in producing critical consciousness to form individuals, not little robots."
"What Renzi wants is a model of school that cares only for the business, which is interested to use students as apprentices, that is as workers that are not paid: labor without any cost. "This excludes the students who do not have the privilege to study in the afternoon because they have to work so they can survive. By excluding them, intentionally, this will increase the gap between the rich and the poor; and will divide further schools in classes."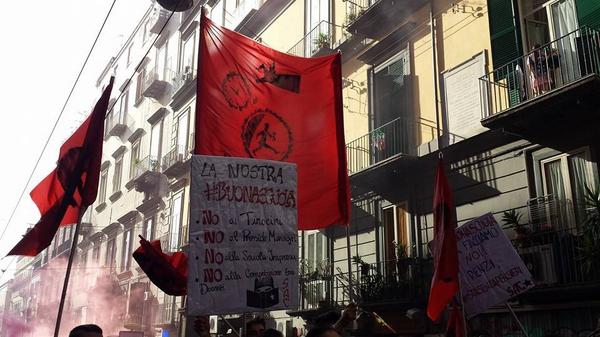 "Instead of caring to grant more space for students so that their voices can be heard in society, the government's project pushes us on the path of hierarchy and exclusion according to the logic of business. This will destroy the laws which gave students the space to organize freely school assemblies, student committees etc."
"Another issue promoted by this reform proposed by this government – which was also a very dear theme of the former government of Monti – is funding the private sector. Companies are given the opportunity to invest capital in the public schools. An entrepreneur will invest only if he is certain he will gain something in return. That something can actually be low labor cost or even no-cost labor, through work placements (especially with regard to technical and vocational schools), the possibility of changing the curriculum to be able to bring in their own company employees trained in accordance with the will of the master. In recent days something surreal happened: inside some school booklet, students have found the ads of a pub. Quite simply, the owner of this club had invested money in this school, which, in turn, has turned into an advertising agency for his club."
"Not to mention that nowhere in the 130 pages of this document, "the right to education" is not mentioned at all, not even once. This is a bitter confirmation of what this government is really interested in, and that does not include the students and their needs."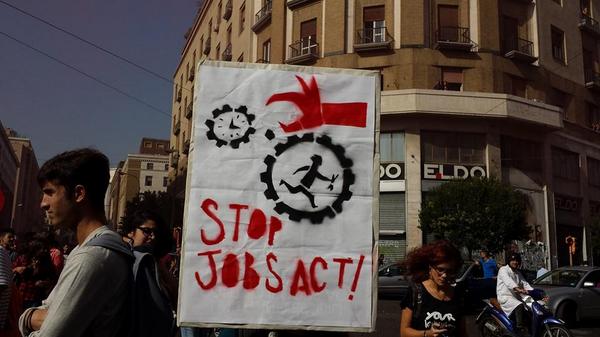 "In the text of his reform, Renzi tells us that the resources needed for investing in schools are immense, and he claims that State alone cannot afford them; but this is done only to justify his desire to let some individuals have a free hand at imposing their will on schools. We are sure that of all the money wasted on the Milan Expo, and other projects, for the army, for the extravagant salaries of public managers etc he can find the sum needed for the schools. Is it just an accident that only owners of companies are to benefit from his reform? As in the American health care system, where pharmaceutical companies fund hospitals but impose their medications, often costly, which are unnecessary and harmful for the patients, in our schools, masters will be able to establish themselves in the name of their interests."
Renzi's reform, students explain, is built on inciting a war between teachers.
"In short: this reform goes against the interests of our students, against the interests of teachers, against the interests of families, and they serve exclusively the interests of the companies, according to the American model that has already proved itself to be a total failure. A similar pattern creates an extreme fragmentation of public schools, with poor school performance, because the teaching, far from forming a critical conscience, becomes a real job training and an authoritarian discipline.
Renzi is using this reform to further pursue the privatization of the education, started by the previous governments through laws and cuts, and completes this process by turning the head of the school into a president-manager in the perennial pursuit of sponsors who will command teachers and will impose forms of political control and cultural anxiety of having an economic return from any private investment.
The fundamental problem of the 'entry of private councils, as well as that of the "rat race" between teachers, is the standardization of teaching that will follow one direction, the "Good" in a manner which is in all ways is not a type of teaching suitable to open-mindedness and critical thinking. Renzi wants to confiscate the students' minds, molding them on a precise model which was approved by a power whose ideal products of schools are slaves. This has to stop! Profits must not prevail our needs as students." Read it all here, in Italian.