In Wuppertal, Germany, 1000 people protested against the eviction an autonomous center is threatened with. Due to growing pressure and as a result of the two occupations of Marien41 and a massive media campaign by autonomous groups like the "Eisbrecher Wuppertal", authorities accepted to start negotiations last week already, and they claim they want to find ways to keep the autonomous center.
Under police protection, nazis organized a demonstration in support of the eviction of the social center, attempting to rally the city against the free living promoted by activists in Wuppertal. They failed, even more so when antifascists organised blockades against them in the city. Apparently, nazi thugs are this stupid that, even if some are poor, they would die to keep capitalists making profits out of human basic needs. This because the autonomous center is helping vulnerable refugees.
Video of antifa blockades against nazis' rally, cops attacked antifascists with pepper spray and grabbed some in attempt to arrest them:
Video of nazis attempting to rally under police protection:
In this interview for a German TV, one of the activists working to build the autonomous center in Wuppertal explains what the squatting actions mean and why they are necessary:
Video to call for mobilization in support of the demonstration against the eviction of the autonomous center.
Tanzdemo Wuppertal 10-14 from HeadsConnected on Vimeo.
Antifascists marching against the nazis and the police: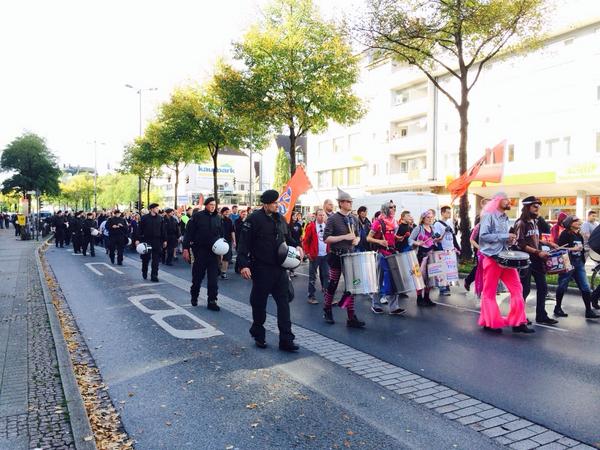 Police deployed numerous forces to protect the nazis attempting to turn the city against the autonomous center.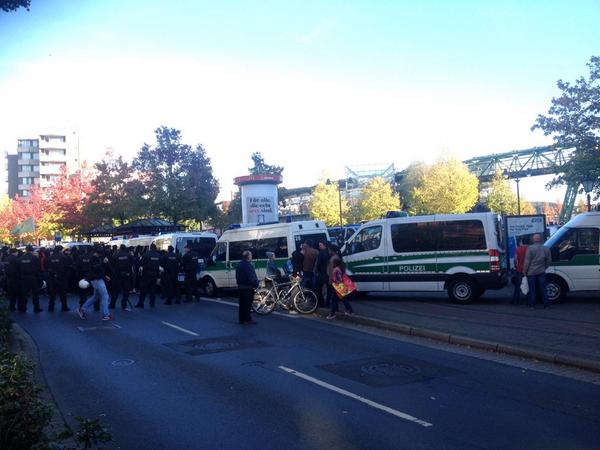 pics via @enough14 ; @EisBrecherWTAL ; ★ Victory Viktoria ★ ‏@V_Vict0ry ; Sandra ‏@Saendralein ; Jojo ‏@WupperJojo;