AFP: Paris,manifestation en hommage à Clément Méric (demo to the memory of Clement Meric):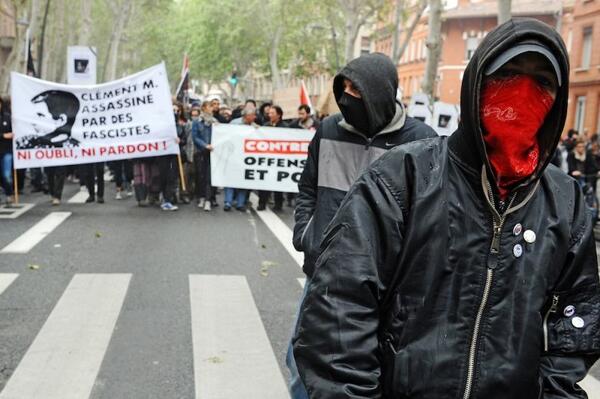 Amazing images during the commemoration on the streets of Paris; 4,000 people remember Clement: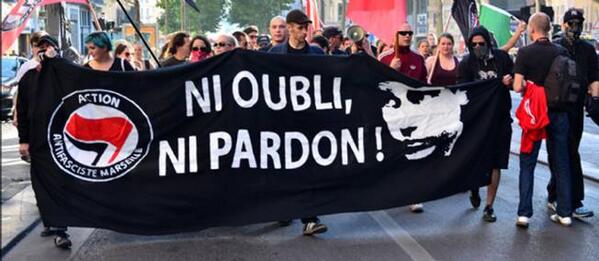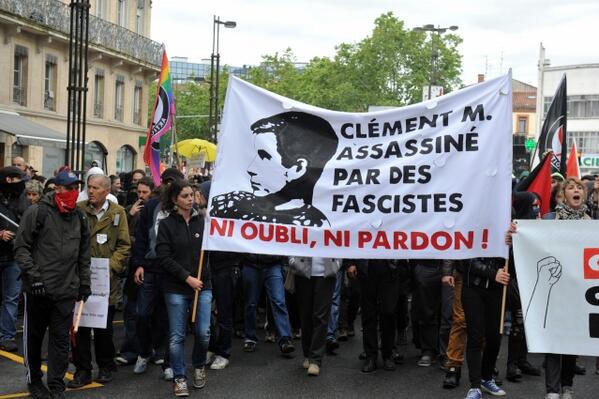 Vidéo de l'Union syndicale Solidaires dans le cadre de l'émission Tv "Expression directe" suite à la mort de Clément Méric ,syndicaliste étudiant et militant antifasciste, tué le 5 juin 2013 par des militants d'extrême-droite. (Video by union Solidaires abour the killing of Clément Méric, union militant, anti-fascist and student, murdered on June 5, 2013 by far-right militants; video was aired on the TV program "Expression directe"):
Clément Méric : Ni oubli Ni pardon de Solidairesnational
4,000 antifascists on the streets of France to continue the struggle Clement Meric paid for with his life. On June 5, 2013, Clément Meric, antifascist militant was ambushed by Nazis and beaten to death in Paris. One of his killers was apparently wearing a Front National t-shirt.
NEVER FORGET, NEVER FORGIVE!
"His case became emblematic, but is not isolated. There are many who face oppression. Oppression takes many different forms (police violence, evictions, stigmatization, Islamophobia, racist laws, challenging the right to abortion…). Recent electoral results of the National Front are not there to reassure us." 
"It is why we believe that the memory of Clement does not belong to anyone, but lives in the fight all those who oppose, in proportion to their means, these oppressors. We therefore call to continue the struggle, in memory of Clement and for all the victims of fascism, of racism, sexism, homophobia, participating in the event which will take place a year after his death June 7, 2014."  Antifa from 19 cities in France and Milan have joined:
Nazis have murdered over 100 antifascists in France over the past years; the brutal fascist repression is backed by the state and encouraged by tamed liberals. Meanwhile, France's Neo-nazi Front National has scored big in elections.
More here about the anti-fascist resistance in Europe and what it has to deal with besides stopping nazis – state collaboration by some window-mourners leftists, who care more about their image in the mainstream media, than about the reality on the streets or their dead comrades. Solidarity with all who resist.
Signataires (au 20 mai) :
Act Up-Paris – Action Antifasciste Paris-Banlieue – Action Radicale Féministe – Alternative Libertaire – Collectif 8 mars pour touTEs – Collectif Antifasciste Paris 18 – Collectif Antifasciste Paris-Banlieue – Collectif CIVG Tenon – Collectif d'habitants d'Arcueil contre le FN – Comité pour Clément – DAL – Debunkers des rumeurs/hoax d'extrême droite – Ensemble – Les Effronté-e-s – FASTI – Génération Palestine Paris – La Horde – Mémorial 98 – MILI – MJCF – NPA – Parti de Gauche – Quartiers Libres – RLF Banlieue Est – Union syndicale Solidaires – Solidaires Etudiant-e-s – Strass – UDB Yaouank Brest – Vies volées – VISA
Le Monde: « Clément, Clément, an-ti-fa » or « Yes, Clément was a comrade», the antifascists chanted while marching. Others were wearing signs which read « Ni oubli, ni pardon » (Never forget, Never forgive), were chanting: « We'll never forgive. We'll never forget.» Unions participated too as well as the left front. 
"He was murdered for his ideas", remembers a comrade. He participated in actions against homophobia. On May 1st, 2013, he participated at the commemoration of Brahim Bouarram – a Marocan who was drowned in the Seine, by the skinheads of the Front National FN, in 1995. The neo-nazis have attacked this demonstration too, last year and Clément Méric suffered injuries to his head." Read more, here, in French.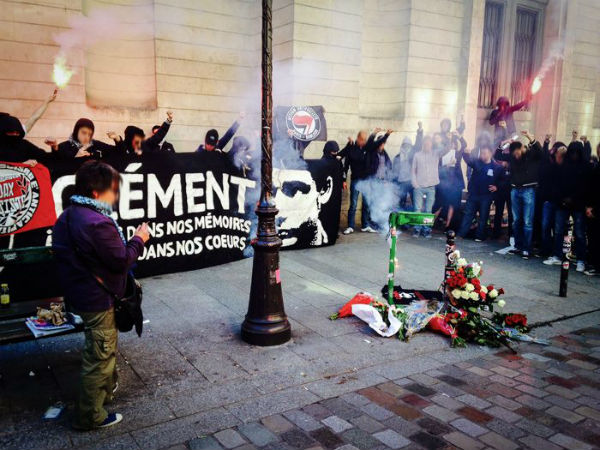 [França] Clément Méric presente! (in Portuguese): "The anti-fascist movement is perfectly aware that the only real fight against the far-right parties is to combat their ideology, to neutralize their fascist propaganda and to oppose the "institutional" parties like Le Front National (Le Pen's National Front) by direct action; as well as combat the nazis groups.  The objective of such mobilization is very clear: to demonstrate that the anti-fascist movement will not forget June 5, 2013, and will continue the struggle for Clément, Pavlos, Carlos and all the comrades murdered for their anti-fascist ideas." Source