Facebook
has long been a major player in the field of activism for many people in Turkey. In a country where traditional media is highly regulated and is subject to active censorship, social media platforms serve as the ideal place for activist related news and information to spread. Given that internet penetration rates are still relatively low in Turkey and there is almost a 100% Facebook penetration rate among those internet users, Facebook becomes the most suitable place for platforms to advocate their message. One such organization that relies on Facebook services for activism is Irkçılığa ve Milliyetçiliğe DurDe (Say Stop to Racism & Nationalism) which is a grassroots initiative to combat racism, nationalism and hate speech, and has over 200.000 supporters on its official Facebook page with many other supporters for the branch pages such as DurDe International and DurDe Antisemitism etc. Previously DurDe had been subjected to Facebook Censorship several times, most notably two years ago around the same time of the year. But what could be so important to get activist pages blocked on social media on the second week of January?
What happened on January 19th?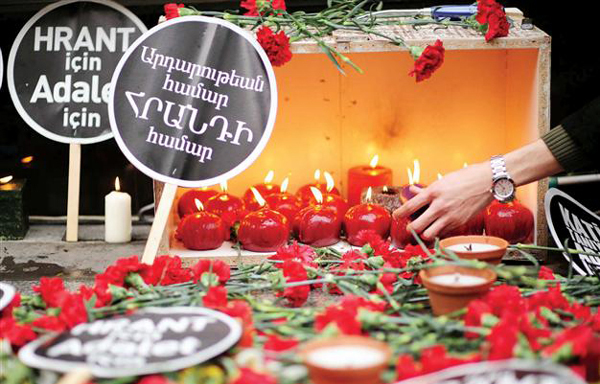 On January 19th, in 2007 Hrant Dink, an Armenian-Turkish journalist had been shot dead by a nationalist on his back, in front of his newspaper and this incident had sparked popular protest against the suppression of Armenians in Turkey. DurDe was founded as a reaction to this murder case to raise voice against racism and nationalism and to support the individuals and groups that are being threatened. DurDe still is the one and only anti-racist network of activists in Turkey.
Among the current programs and campaigns of DurDe are annual Hrant Dink commemoration, campaign for recognition of the Armenian genocide, support with the refugee and immigrant networks, commemoration for the Holocaust, the campaigns with regards to Roma communities, etc. The network also has spontaneous reactionary protest rallies and manifestations in support of international movements, as well as holding panel discussions open for public attendance.
But why would an activist network be targeted by Facebook?
When it comes to activist platforms being targeted by Facebook, one can not help but remember the words of a former Minister of Transportation, Maritime Affairs and Communication, Binali Yıldırım who had said "our government has been in close cooperation with Facebook and we only wish to have a similar relationship with Twitter". Over the years dozens of Turkish activists had been detained, arrested, had their houses raided by anti-terror police, as well as having their Facebook pages removed. There are still users who are facing trial for status updates. For people whose personal information is protected behind anonymity even online, one needs actual help of the platform to reach such user data.
Among the many activist platforms that have so far tasted the Facebook Censorship, DurDe has been rather experienced. Many a times the DurDe pages get complaints from nationalist users for campaigning for the recognition of Armenian Genocide or standing in solidarity with the Turkish Jewish Community after synagogue attacks etc. Although Facebook's community standards state that violence to oneself or others, bullying and harassment, hate speech, graphic content and nudity are prohibited, tather than removing the content that spreads hate speech and calls for hate crimes, Facebook so far seems to target the anti-racist network of activists.
Two years ago, around the same time of the year when the platform was to launch a series of activities to commemorate the murdered journalist Hrant Dink, the page had been blocked once again. Right on the centennial anniversary of the genocide, and one week before the commemoration for the slain journalist, the page has been blocked once again. Yet, this of course does not stop the activists to carry out their campaigns and actions, just slows down the process of informing the general society.
During the year 2014 Turkey once again scored very high in demanding an international platform to apply censorship for out of governmental request. Facebook had declared that censorship had increased by almost 20% in the first six months of 2014 compared to the previous year, and that Turkey once again comes as the runner-up in the list of countries that requested censorship from the company. Turkey's requests of censorship from Facebook had been inquired by European Commission in the summer of 2013 in the aftermath of Gezi Park protests. The Commission's inquiry had questioned the previous page-blocking actions on the side of Facebook on other platforms in Turkey, including the football ultras Çarşı, citizen journalist platform Ötekilerin Postası, Armenian newspaper AGOS and LGBTI community pages. The Facebook policy of targeting activist pages and revealing personal data belonging to activists to Turkish state raises concerns whether this is part of a systematic offensive on the non-governmental groups and activists in Turkey.