Following Cumhuriyet Daily's publication of the Charlie Hebdo's latest issue, Turkey found herself in the middle of a very heated debate on "press freedom". As soon as the daily was announced that the content would be printed in Turkish for the readers, there had started thousands of phone calls, e-mails, twitter messages threatening the newspaper staff and journalists working there. The night before the publication of the cartoons, police raided the printing house to check if Charlie Hebdo cover was included in the print.
Throughout the day, it was almost impossible to find Cumhuriyet in many places; it was removed from the stacks, sold out or hidden somewhere in the back. As many people would want to keep this issue in their archives, it became quite a popular hit, even for non-regular-readers of Cumhuriyet.
The publication sparked tension and many people got furious over the publication; they went so far as to directly start death threats. During the day, police had caged Cumhuriyet offices in, to protect from violent protesters. Even though several people tried to break the police barricade and get inside the headquarters, they failed and got detained. Some people had brought banners that had writings which promised revenge for the prophet. Some of the slogans being shouted during the protest included "be prepared now, death shall flow all around!"
Some NGO and political leaders have called/visited Cumhuriyet to show their support and solidarity for freedom of press. The protesting crowd quickly declared these people as traitors and enemies of Islam. The crowd went so far as to burn newspaper in protest; which became slightly a more popular thing. This scene may remind one of the saying about Babelplatz in Berlin "where there are books burning, soon will burn human beings".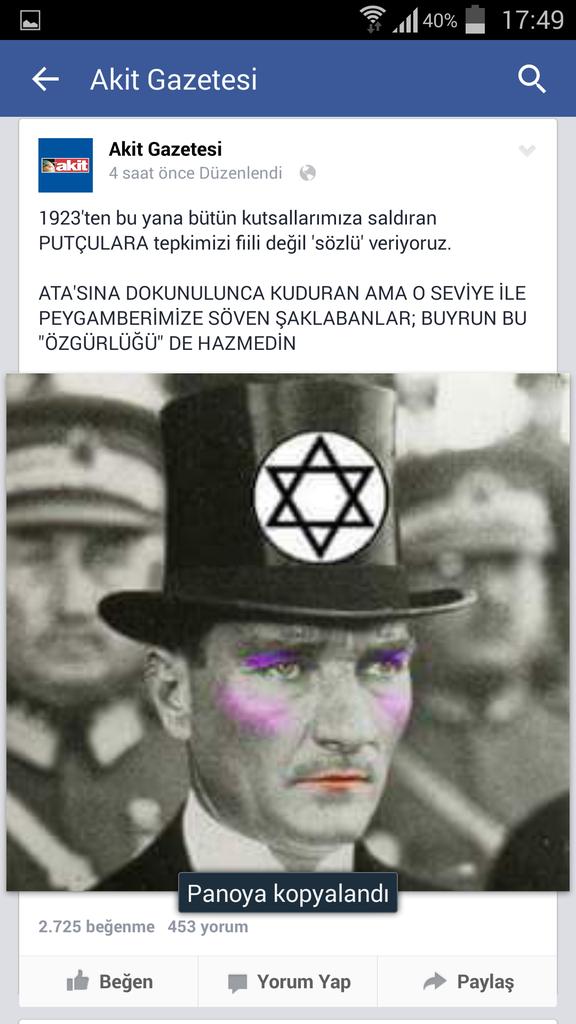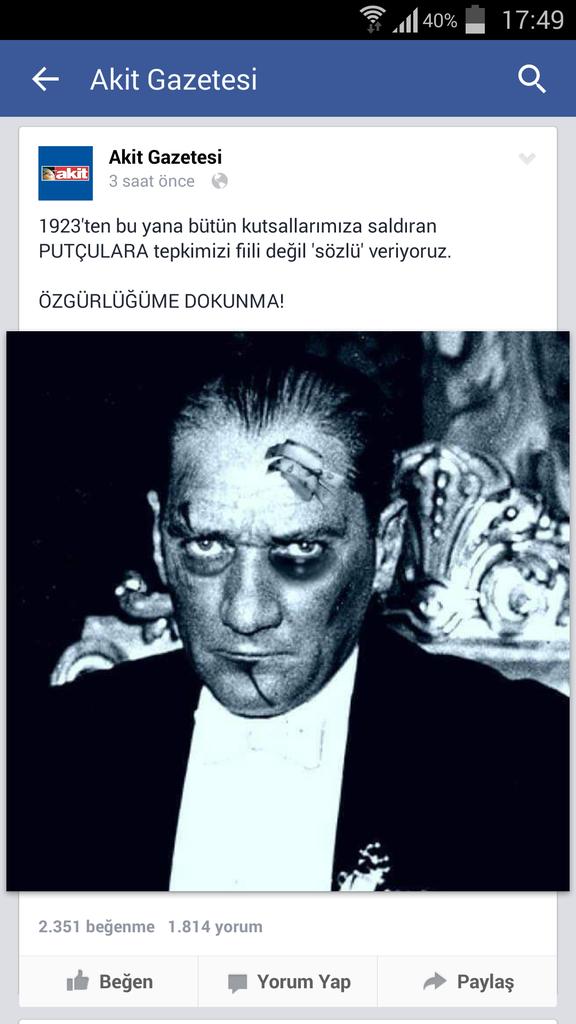 During the day, the islamist newspaper Yeni Akit joined in the protests, this is the newspaper which is infamous for running hate campaigns about anyone who is not pro-government or jewish, gay, leftist, atheist, liberal, intellectual etc, and could be seen partly responsible for Hrant Dink's assassination with the hate-target news pieces that were run prior to journalist's assassination. Yeni Akit shared photoshopped images of Ataturk –the founding father of Turkish Republic, and a widely adored figure for most nationalists in Turkey. The images showed pictures of Ataturk with pink make up and jewish star, beaten up.
The controversial part is that while some nationalists were fine with the Mohammed caricatures on Cumhuriyet, they were against the images of a beaten up Ataturk with make over. The concept of press freedom has been misunderstood by masses obviously. Even though the Kemalist nationalists seemed to digest these images considerably okay, some rather hardcore nationalists condemned both newspapers. Some twitter accounts belonging to nationalist groups declared that they would arson both newspaper buildings for Mohammed and Ataturk.
A group of nationalists first joined in the Cumhuriyet protest and later on moved towards Akit's building. Once the protesters turned more violent and started throwing stones, shots started getting fired from Akit.
The day after a night of protests, situation is still tight. Akit published a cartoon on cover page targeting Cumhuriyet journalists. This is the kind of behaviour Akit is no stranger of, having targeted many cultural activities, authors, books, journalists, artists, minorities, immigrants, etc. Starting with Akit's campaign, there has been facebook events inviting people to raid Cumhuriyet offices and calling for massacre of journalists. These events have been reported by anti-racist activists, however the facebook management declared that the events comply with community standards. Looking at the number of people flooding the streets leading to Cumhuriyet at the designated time, perhaps it is possible to say that Facebook supports a second Charlie Hebdo, this time in Istanbul.
Since the publication of the Charlie Hebdo content on Cumhuriyet, many newspapers have shared the whole magazine including the cover. Prime Minister Davutoğlu made a public statement that it is not OK to publish cartoons of Mohammed, and that this is against the law. When the Mohammed cartoons were declared as banned content and access was blocked to news portals that showed the image, it became viral and started appearing all around in blogs, social media etc. Some NGOs have started a campaign to expand understanding of freedom of speech and press freedom with the cover page of the magazine. Moreover, some youth initiatives have taken the magazine's full Turkish version and turned it into a fanzine, distributing on streets in photocopies. Also, the digital magazine has been in circulation since the ban has appeared.
Even though the situation is still tense, and journalists are under life-threatening situation, there is still hope for expansion of the understanding of rights and liberties. After all, freedoms and liberties are valuable and meaningful so long as one can defend his worst opponent's rights as well.