This blog contains all of the contact info we could gather to help – (we will continue to update this blog with more contact information, as we receive it).
UPDATE 1: Bosnia government officials said they have no such information about vehicles with supplies being held at the border, but they confirmed that vehicles need minimum documents (inventory of what they transport, address of origin and address of the final destination of the humanitarian organisations or other organisations). Officially the indirect taxation service said they are sending a memo to the foreign ministry to help facilitate vehicles with aid pass faster through the border. They insist minimum documents are required, by law. If any trucks get detained, let us know, anyway – leave a message on the Facebook page or on twitter. 
UPDATE 2: In Northern Bosnia, at the Bosnia-Croatia border, border crossings checkpoints been closed due to flooding, at Bosanski Šamac , Orašje, Brčko, Rača i Pavlovića bridge.
On this Facebook page Help for Serbia, you can find information in Serbian about the situation there, and what they need.
In Bosnia and Serbia, they need money, boats, food, radios, batteries for communications, medicine (paracetamol, antiseptics, anti-diarrhea tablets) disinfectants, blankets, clothes, shovels, canned food, baby food and bottled water, flashlights, candles, hygiene products (soaps, dry wash products; shampoo/body wash lotion, hand sanitizer, facial tissue, toothbrush, pampers, others), can openers.
They also need rubber boots because snakes are appearing in large numbers in the places where water withdrew. People who have been saved have lost everything they owned, so they need all the help they can get to rebuild their lives. They are also need of water pumps.
People are receiving updates and information on twitter, using the same hashtag in both Serbia and Bosnia #poplave (floods). Use also: #poplavers #poplaveBIH #poplave2014. 
On May 18, at 21:30, there will be free buses from Budva, Montenegro to Serbia for those who wish to volunteer in the relief effort. Contact number in country is: 068/469-810 (live updated on this site too, balkanist.net)  
For people in northern Bosnia especially, where the water is still rising, radio amateurs in Serbia are updating via hashtag #RMZO (alerting via twitter, phone and radio) and also via www.poplave.rs – this site is being used to organize the rescue efforts, helping police, fire fighters, medics coordinate with each other. The map on this site contains information about the floods and rescue efforts regarding the entire region affected. Here is another interactive map which shows just the region affected in Bosnia.

Linked here is a video of river Bosna carrying an entire bridge and smashing it into another in Zavidovici, Bosnia. This is a video of a landslide in Vogošća, near Sarajevo, a house collapses at 4:10. Lanslides are even more dangerous than the floods because they take people completely by surprise. An entire village, Paraće, near town of Kalesia in Northwest Bosnia, has been completely destroyed by landslides.
Discussion with a resident from Bosnia: "Did you get any help from the government?" "Ha, the government! Thank God we don't expect anything from them.."via @verhalenvanmars
In Serbia, situation is the worst in city of Šabac and Obrenovac –  Obrenovac, municipalities of Ub, Krupanj, Svilajnac and Paraćin (Paracin is completely under water).
In Bosnia, situation is critical in Bosnia Zavidovici, near Maglaj, in Doboj in northern cities of Bosnia along the bank of the Sava River – Biljeljina, Bosanski Šamac.  Southern parts of Bosnia have avoided major flooding while some suburbs of capital Sarajevo have been flooded in recent days, but nothing compared to other cities.
 In Bosnia, people are self-organizing on their own, they save people in dire conditions, no shovels or boats, no good radio communication. People are in life threatening situations not just because of the floods – the embankment in Bjeljina on Sava river collapsed too, which means more flooding – but because of landslides. In Bijeljina area between 6,000 and 10,000 people could be evacuated, officials said.
 Instead of helping, governments are hindering self-organised rescue efforts and donations, because people might not have the right papers: at the borders of Bosnia, trucks are being held because they don't have "the proper documents". Governments are worried that people might smuggle "illegal stuff" – like blankets, boats, medicine, batteries, basically help the government is incapable to provide to people in such distress.
How can you help: 
For Bosnia, Caritas Bosnia Herzegovina, this is their facebook page Caritas BK BiH: 
UniCredit banka d.d. Alipašina 45 a 71000 Sarajevo Za uplate iz inozemstva: EUR: 338 690 481 206 3318 IBAN: BA39 338 690 481 206 3318, SWIFT CODE: UNCRBA 22 Za sve informacije kontaktirajte 063 690 464 (Kristijan Hrgić), 063 690 456 (Suzana Božić) i 063 690 439 (Dijana Muzička). http://www.carbkbih.org/
Also more info can be found on this page: http://www.ckfbih.ba/ 
Red Cross for Bosnia, see below.
This is the bank account of Merhamet Bosnia, a Muslim equivalent of Red Cross: 
Intermediary Bank: Commerzbank, Frankfurt Am Main Swift Code: Cobadeff Beneficiary's Bank: Vakufska banka d.d. Sarajevo, Swift Code: VAKUBA22 IBAN:BA391601120000060983 Beneficiary: HO "MERHAMET" MDD, Bistrik 2 Sarajevo
For Serbia, here are listed the official accounts for donations:

In both countries people are organizing volunteer committees and rescue operations.
In Bosnia, buses will take volunteers to affected areas.
Here's a list of places where donations are gathered for people who have been evacuated:
Faculty of Philosophy (from 10:00 to 16:00 every day)
Center for the Promotion of Civil Society – Gradačačka bb , near Malaysian bridge (every day except Sunday, during the period 9-15 hours) 
Rooms FK Sarajevo (club room )
Caritas BK BiH ul Mehmed Beg Kapetanovića Ljubusaka 6 , 10-18 and 24/7 contact 063690456
Shatro caffe
Bushido Karate Club
Faculty of Islamic Studies
Veterinary Medicine; Pomozi.ba (Aziz Šaćirbegović 48 , near the robot Hrasno and Azići 12 , Ilidza). Live information on balkanist.net.
More information from local papers, here, here, and here.  
Levee breaking on a river near Bijeljina:
New map of the flood zone from @AJBalkans. Absolutely devastating. #SerbiaFloods #BosniaFloods pic.twitter.com/XSz4FfGJhP

— Balkanist Magazine (@Balkanist) May 17, 2014
POMOZIMO! #poplave pic.twitter.com/3c2r7KkeWZ — Modern Serbia 1003 (@modernserbia) May 18, 2014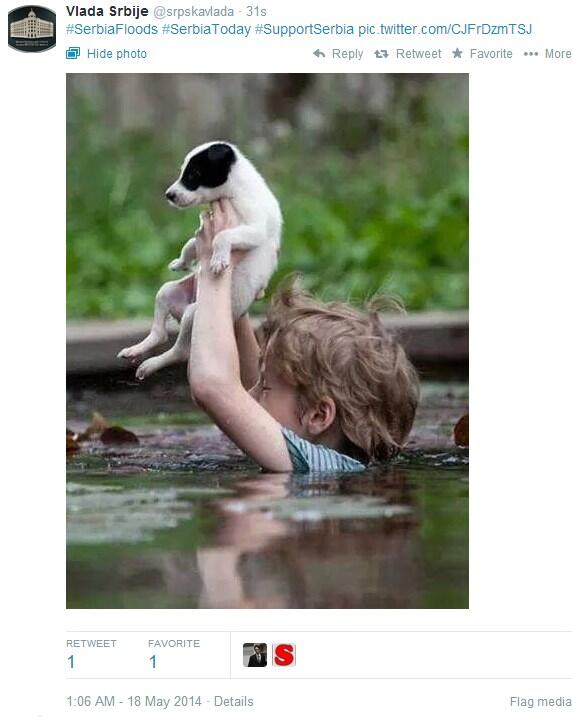 za svaku pohvalu, bravo. sportska hala Ruma #poplave #poplaveSrbija #PrayForSerbia #SupportSerbia pic.twitter.com/y6fwMKg5GP

— !!!!!!!1003!!!!!!!! (@efedrinefedrin) May 17, 2014