The Renzi government's attacks on workers have led to 1 million taking the streets in Rome. "Labor reforms", known as jobs act, are actually aimed at subjugating workers even worse to employers; workers can be fired more easily – Renzi lies this would diminish unemployment, when it's proven in other EU countries that in fact it made it worse. Unemployment among youth reached a record of 44%. Renzi's law will only increase exploitation and the artificial impoverishment of workers, said protestors: labor reforms mean poverty for working class.
#14N #socialstrike #stopjobsact
Employers are safeguarded by firing workers for their profits by not being obliged any longer to pay them at least compensations. The rally in Rome was organized by the country's largest union, the CGIL (the Italian General Confederation of Labour). Workers, unemployed, students, teachers are planning a general strike in Italy on November 14 to stop the government from worsening wage slavery.
Attacks on working class have gone mad, a financier close to the government even dared say he supported "the right to strike of public employees be restricted".
"We are ready to strike"
Renzi's law is contested for it changes article 18 of labor law to allow employers to fire workers without just cause, that is whenever they can hire cheaper labor to increase their profits. If the government really cared about the crisis, Camusso said, then it would put a huge tax on large fortunes.
Susanna Camusso, head of the CGIL, told the million protestors: "We want work for everyone, and work with rights. This is a demonstration for those without work, without rights, those who suffer, who have no certainties for the future. We are here and we're not going away. We will strike, and use all our strength to fight to change this government's policies." Protestors marched with huge banners saying, "Jobs, dignity, equality to change Italy". The unions have said they will use all forms of struggle to respect the dignity of labor, including general strike.
Renzi's claims his party is center-left are exposed as lies by his neo-liberal brutal policies against working class. Absurd enough, deputies from his party claim that firing workers more easily will "create work", and will build "a future for young people".
"If he (Renzi) really wants to change this country he needs to do it with these people, not against us," Fiom union Secretary-General Maurizio Landini told Reuters TV.
"We're here to say that job insecurity is not our destiny," speakers said.
"No one can say in good faith that laying off people creates jobs. Clearly, for Renzi Article 18 is an obsession," said other speakers. They urged the government to stop punishing working people for the crisis of the rich.
Matteo Renzi's policies are considered to be "conservative, old iron of the last century" and the policies his party adopts tend to go increasingly to the far right.  This is why protestors carried banners saying, "If Renzi is leftist, then Berlusconi is feminist":
The 1 million protest against jobs act is the first major demonstration against Renzi's party, whose claims to be social-democratic have secured it a long and enduring relationship with the unions, which are mostly reformists anyway.
Protests have stepped up in Italy, against fascism, against evictions and homelessness, against turning education into a factory "the market", when 80,000 students took the streets to stop the fascist reforms against public education. There were social strikes called in front of public institutions, workers erected more blockades in dozens of cities. In Torino, police attacked workers on social strike on October 14.
"Think twice before you go shopping for poverty", are protests which take the form of promoting the social strike in Italy by warning workers to be aware of how capitalism traps them. "Blocking the streets. Blocking capital flows." 
#
socialstrike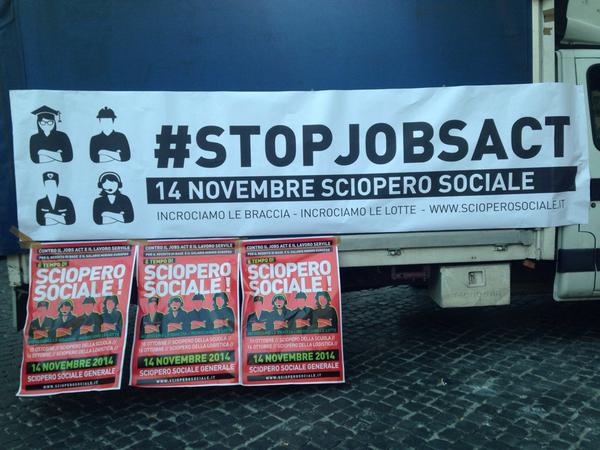 Calls for general strike on November 14:
October 16, Torino, police attacking workers on social strike: